King′s Yellow
An Elizabethan drama of intrigue and courage
About This Play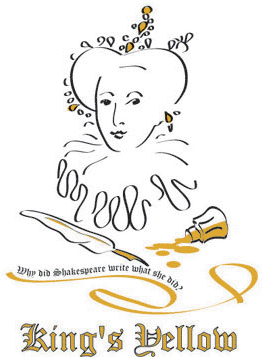 Coming to the stage in a year when the world is consumed by war, here is an original full-length drama about the first anti-war writer in English history, a woman. She was noble but secretly a protestant against the abuses of royal power of the great Queen Elizabeth I of England. Married by Queen's command at age 15 to the magnificently wealthy Earl of Pembroke, a warrior three times her age, Mary Sidney began secretly to write plays, poetry and translations of the Psalms of David. In danger of the ever-possible accusation of treason, still she warned the most powerful queen in English history to beware the seductions and abuses of royal power.
It happened that an actor by the name of Wm. Shakespeare was among the players in her husband's theatre group. Choosing this name as her foil, Mary Sidney systematically wrote to unveil the follies of kings, killing off Richard II, Richard III, Henry VI, Coriolanus, Julius Caesar, or showing the hollowness of Lear or the weakness of prince Hamlet. Elizabeth was angered. Mary was put on trial for her life and all the while, to make matters worse, was in love with a younger man, not her husband.
Caught between love for language, loyalty to her secret lover and a growing respect for her increasingly admirable husband, the young countess is torn in a violent intersection of passion, poison, and power. Arsenic, known to the Middle Ages as King's Yellow, is used in an attempt on the life of the Queen. The earl her husband, unexpectedly stunned by his young countess' beauty and grace, asks her to find for him some love and to redeem their marriage. In the end, this is a tale of human transformation, wrapped in the mystery of the famous "authorship question" and Mary's actual warning which still rings down from her century to this:
Shall ever civil bait gnaw and devour our state?
Shall never we this blade,
Our blood hath bloodie made
Lay down?
But as from age to age,
So pass from rage to rage?